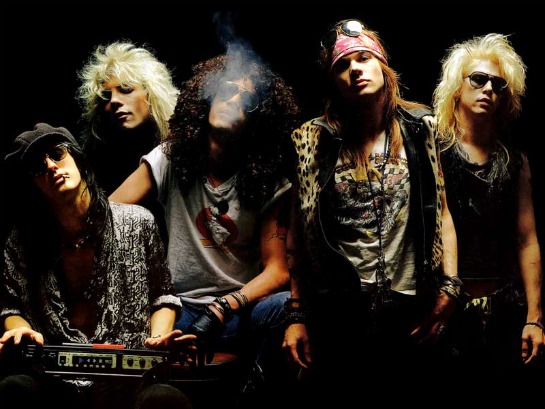 I admit it. I like having this Internet thing sitting here, ready to give me whatever I want. It has been an amazing tool for allowing me to discover and access new music. But in some ways I miss how things used to be.
Case in point, the release of Guns N' Roses Chinese Democracy this month. I should be extremely excited about it. Excited like I was in 1991 waiting for the release of Use Your Illusion I and II. But I'm not. I'm not excited because I know practically everything about Chinese Democracy and have heard most of it before buying it.
Yeah I know, seems like a dumb thing to say. People download entire albums before their release date all the time now. I've done it myself. But this time it's supposed to be different.
I want to count down the months, weeks, days and hours until the release date. I want to rush to the record store on the day the album comes out. I want to have no idea what the artwork will look like until I pick it up. I want to hear it for the first time not knowing what to expect. I don't need these things for every new album I'm looking forward to. It would just be nice to experience them again occasionally.
But it's different now and I wouldn't change things even if I could. The same tool that ruined the experience of buying a new album, also gave me a chance to hear what I may never have had the chance to buy. For all I knew Chinese Democracy never was going to come out. Leave it to Axl Rose to actually do what everyone thought he never would.
So on November 23rd I will know what the artwork for the new Guns N' Roses album will look like and I will have heard nine of it's fourteen songs. But I'll still be there to buy Chinese Democracy the day it comes out. It won't be the same. But as much as everything has changed, some things about me never will.
For those who care or might even have this on a shitty VHS tape from when it aired on MuchMusic or MTV back in 1988, here's Guns N' Roses live at the Ritz in New York:
It's So Easy
Mr. Brownstone
Out Ta Get Me
Sweet Child O' Mine
My Michelle
Knockin' on Heaven's Door
Welcome to the Jungle
Nightrain
Paradise City
Mama Kin
Rocket Queen
Download Guns N' Roses – Live at the Ritz, New York 1988 (zip-91mb)